Ancient-Nomadic Adventure
On footsteps of ancient Anatolian Turkmens and Lycians
Ancient Nomadic Adventure is an interactive tour of 11 days in which our guests will develop a deep understanding of Turkish culture, Turkish textile, cuisine and local history.
The history of Anatolian/Turkish textiles will be pursued in Istanbul with visits to the museums and some shops in the grand bazaar. Also, our guests will feel and experience the cosmopolitan infrastructure of the city while visiting religious and cultural centers such as the Jewish community center and Kadikoy market. The diversity of cultures, races, ethnicities and their impact on social life is strikingly harmonious all together. We should not forget to talk about delicious examples of Turkish cuisine which will be a festive occasion in each meal.
The nomad way! This will be our real perception of the world for one week in company with real nomads. We will stay in the black nomad tent woven in a rug weaving loom by carpet weavers, and migrate from one pasture to another. During this period, we will process wool from the fleece to the carpet, understand and implement the basics of textile weaving, and walk through forests and plains to arrive at one of the biggest nomadic encampment areas of Southwest Anatolia. Also, we will learn how to make Anatolian Turkmen bread and cheese together.
We will visit ancient cities remaining from Lycians, Hellens, Romans, and Byzantines, and see their monumental art crafts in the museums , we will try to imagine how the area and these ethnic cultures were glorious and rich in ancient times.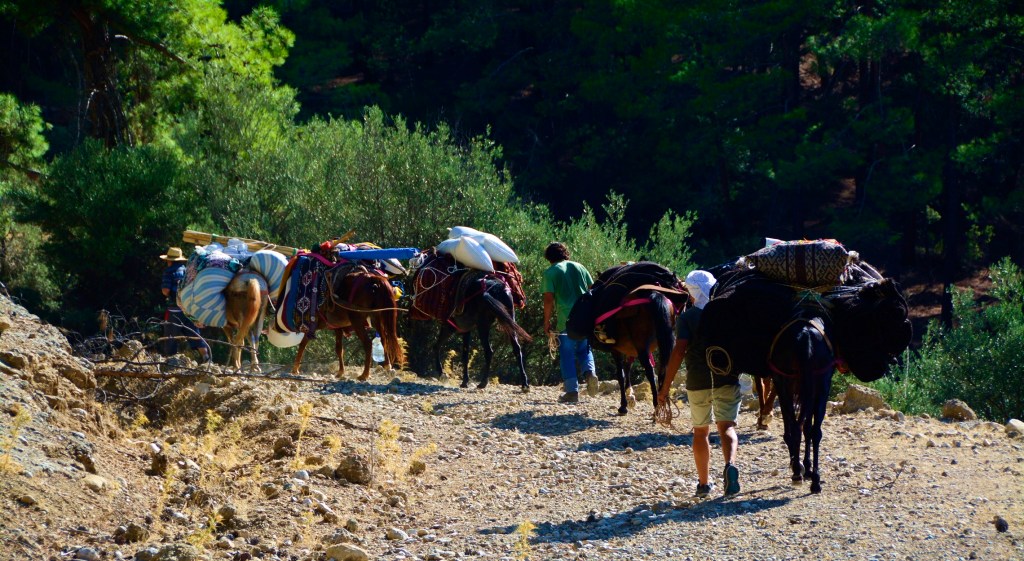 ---
Write Us
---
The Itinerary
Day 1 – Arrival in Istanbul. Private Transfer to your hotel in the old town. Orientation and welcome dinner.D.
---
Day 2 – We will begin our journey by visiting the Turkish Islamic Arts Museum, one of the most famous museums in the world with its unique and beautiful Turkish textiles and Antique Turkish Carpets collection. Carpets from the Seljuk era, early and classical period Ottoman workshop and village carpets; we will observe them with a technical view and try to understand the socio-cultural atmosphere in which those carpets are produced. After a small visit to the Spice Market, we will visit the Jewish center of Istanbul, observe the Jewish Heritage of the ancient capital of an immense empire, and see Galata tower, talk about Genovese and Levantine heritage of the city with a small excursion of the neighborhood. We will take the ferry to Kadıköy market for dinner, we will talk about the Bosphorus and its diverse culture during the ferry journey, and before the dinner, a small excursion in the marketplace of two hundred years will be very enjoyable. Overnight in old Istanbul. B.L.D.
Day 3-  We explore some private collections with its extensive inventories of carpets gathered from Anatolia mostly coming from rug weaving looms of three major carpet-making centers such as Ushak, Bergama, and Konya. Some of those carpets may even remain from even the 15th century. Then we will visit the Kilim and ethnographic art Museum of Josephine Powell who had the reputation of "American Nomad" between Anatolian Turkmens. She donated all her textile art collection to KOC Family who exhibit them in an old Ottoman house. After lunch in the area, we will visit Sadberk Hanim Museum which is one of the great Anatolian textile and ethnographic art museums of Turkey. The museum contains over 20.000 artifacts including great Ottoman textile weaving wonders, costumes, Iznik ceramics, and ethnographic art objects. Overnight in old Istanbul. B. L. DINNER on OWN.
---
Day 4 – Morning flight to Dalaman, to the southwest of the Country and drive for 3-3,5 hours to arrive at our encampment in the center of the Western Taurus Mountains with 1.000 meters – 3000 feet of altitude. We will meet with our team, and settle in our big black nomad tent woven on handlooms by Turkish Carpet Weavers. Each guest will be given a chuval – a nomadic sack, hand-woven on a rug weaving loom to keep his/her belongings into during the walking part of the tour. We will talk about the technical infrastructure of the tent and how to use it as a living room during the day and as a bedroom during the night. The dinner will be taken in company with a real nomad family, living nearly with their couple of hundreds goats and sheep, we will have the chance to see their authentic lifestyle. Overnight at the Camp. B.L.D.
---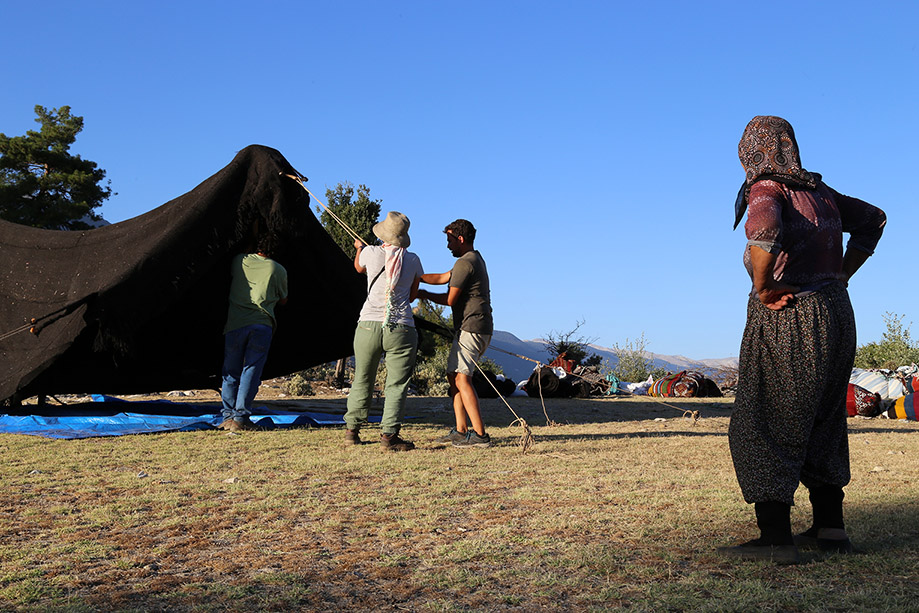 Day 5 – Migration day. We will wake up at 07:00 have our coffee and snacks made of walnut and molasses, upload animals with our personal sacks, and walk through old nomadic migration paths for 2.5 hours and arrive at our resting point at 10:30. This ancient migration path of Turkmens, a portion of the famous Lycian Way, is among Turkey's best hiking trails. We will have a long stopover there, have traditional Turkish breakfast, and lunch, relax and admire the beauty of mother nature between cedar and juniper trees. At 16:30 pm, we will start walking again for our night camp in the center of a cedar sea at 1800 meters of altitude, with plenty of thyme and flowers around. We will have a delicious Turkish village dinner. Overnight at camp in the black tent. B.L.D.
---
Day 6 –Pasture day. We will wake up at 09:00, have breakfast, walk from the forest road to visit a nomad family living nearby, talk chat with them about their lifestyle, witness their wise and generous perception of life, talk about good old days. Lunch in our tent. We will see a demonstration on how to comb and spin wool. This will be the very beginning of the process of textile weaving. Moreover, we will begin to dye yarn for our small production of textile, together to be taken place in the following days. Your leader Deniz will talk about the technique of wool processing and dyeing. We also will have the chance to make our Anatolian Turkmen bread together. We will make and taste nomad bread in our meals and make it again when we need. Dinner and overnight in the black tent. B.L.D.
---
Day 7 – Half-day migration. We will wake up at 07:00 have our coffee and breakfast made of walnut and molasses, upload animals with our personal sacks, and walk through old nomadic migration trails for 2.5 hours. We arrive in a beautiful spot at 10:30. We will visit a nearby village, drink tea in the village teashop, after lunch there, will be transferred to the night camp in 1700 meters through beautiful and fertile apple gardens. This afternoon will be the time for wool dyeing and cheese making. We will move around and benefit from extremely beautiful nature, collect some herbs, use them in our tea, cheese, meal or dye process. We will dye wool together, make cheese, talk about chemistry in nature. Dinner and overnight in the black tent. B.L.D.
---
---
Day 8 – Half-Day migration. We will wake up at 07:00 have our coffee and snacks made of walnut and molasses, later start our walk through old nomadic migration paths for 3 hours and arrive at our destination at 11:30. A very beautiful landscape will surround us and we will be able to see Elmali plain from 1800 meters of altitude. We will see "The Green Lake" at 1800 meters of altitude with emerald color and extremely cold water. Our lunch will be next to the lake and we will be transferred to the famous Subasi Pasture camp at 2070 meters of altitude. Dinner and overnight in our black tent. B.L.D.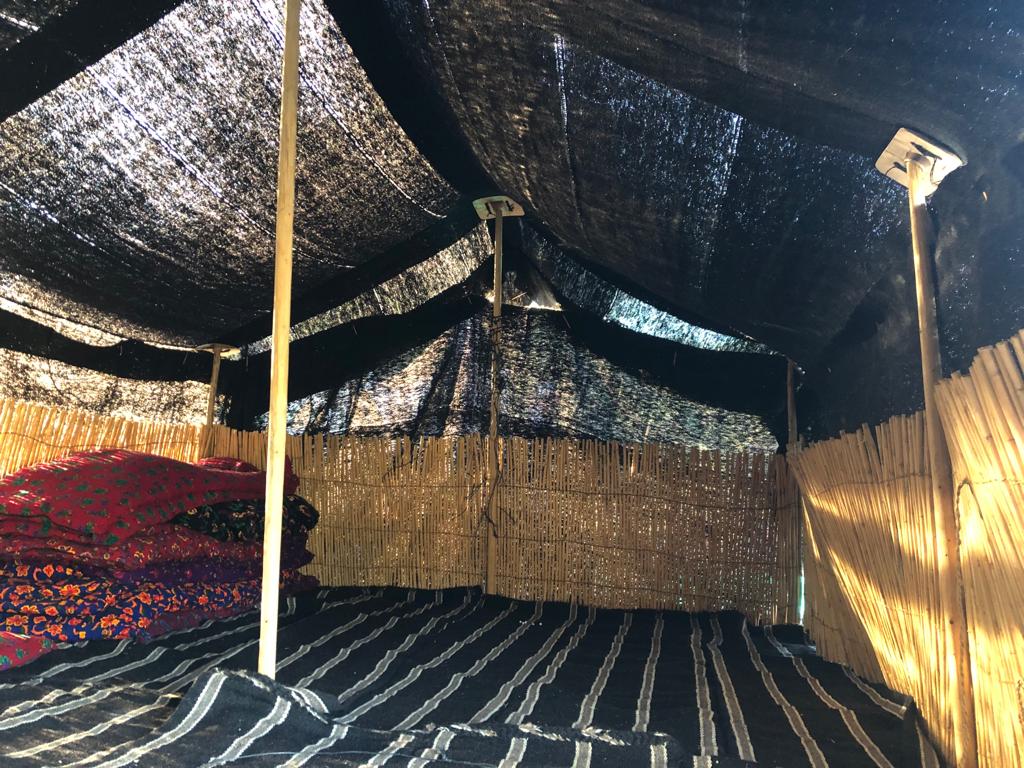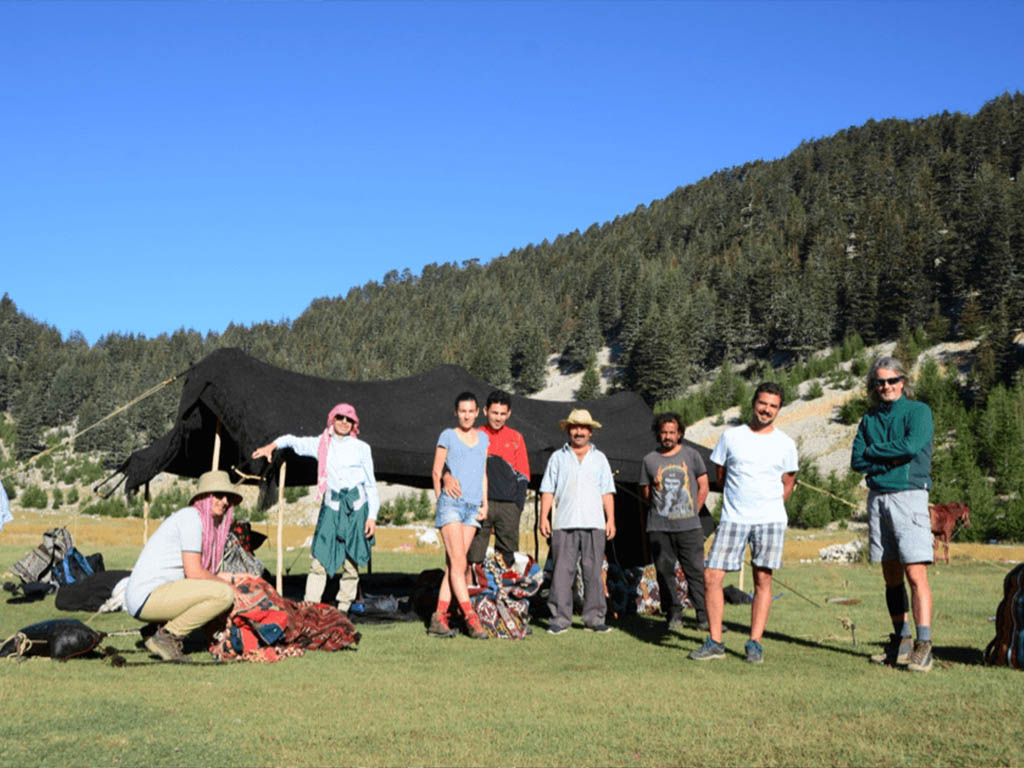 ---

The nomadic adventure will begin in minutes, the black tent will be packed and the hand-crafted bags that we use as luggage will be uploaded to horses. We will migrate like real nomads and experience the wisdom of the nomadic lifestyle and the beauty of nature during our journey. Come and join us.
---
Day 9 – Pasture day. Late breakfast after morning coffee, we will get the chance to see Anatolian Turkmen nomads coming from Fethiye region in their black tents. We will hike a bit to discover a snow well in which Anatolian nomad Turkmens use as a fridge to preserve their cheese produced in the pasture. There, we will make our "frozen drink" from natural snow and molasses in the old way. Return to the camp, and work on the preparation of a small ground loom to weave together some different kinds of flat weavings with the yarns we dyed. Lunch, dinner, and overnight in the black tent. B.L.D.
---
Day 10 – After breakfast, we will say goodbye to the black tent and its crew and will drive to Dalaman for the transfer to Istanbul. We will be transferred to our hotel in the city center. Overnight in Istanbul .B. L. DINNER on OWN.
---
Day 11 – Transfer to ISTANBUL airport for the international flight back to your country.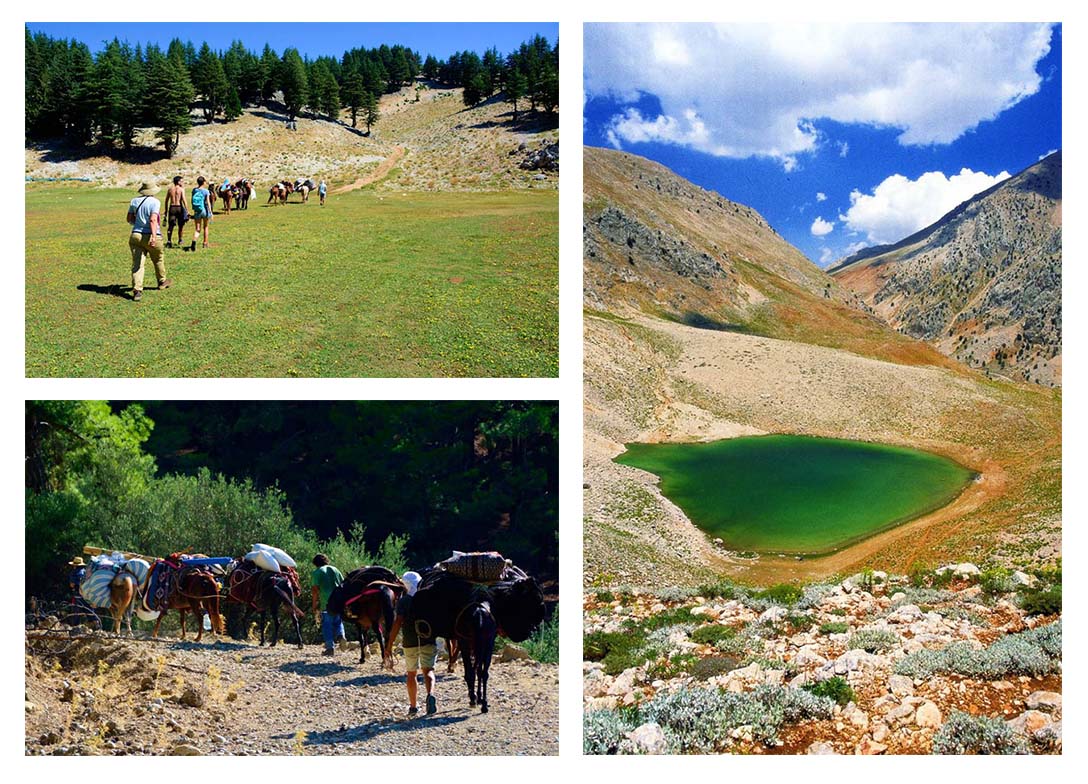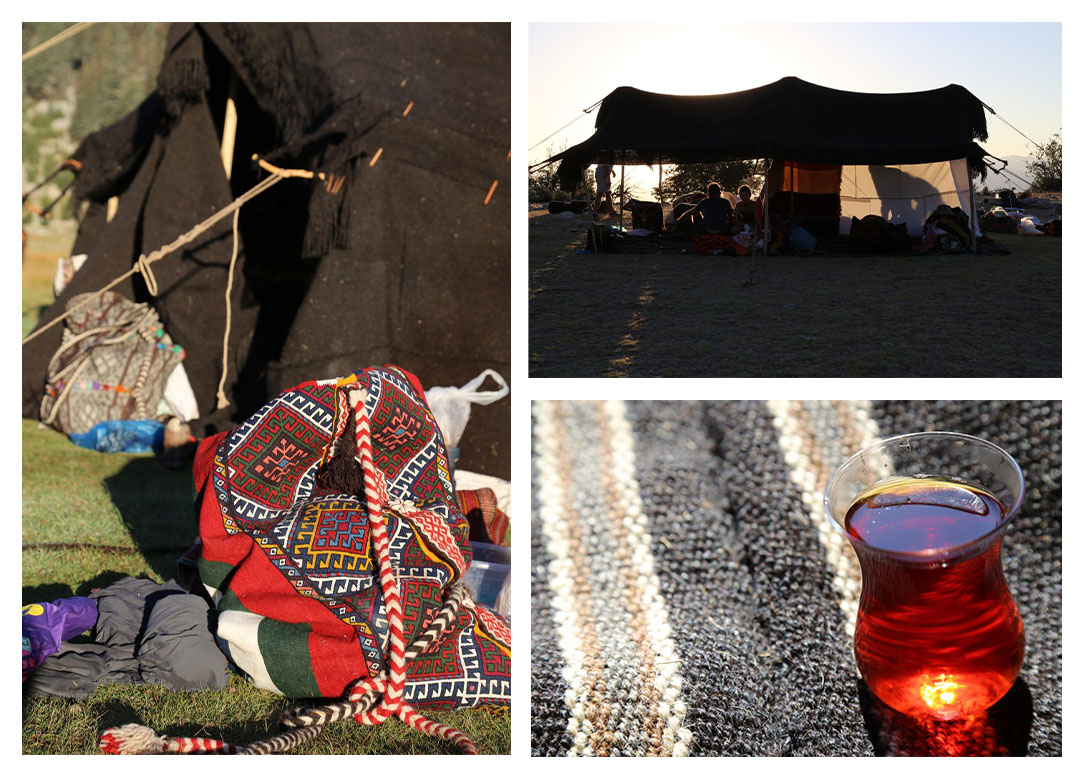 ---
---
Next Tour Beginning Date:
*The 19th of June 2022 Sunday (finishes on the 29th of June in Istanbul)
*The 14th of August 2022 Sunday (finishes on the 24th of August in Istanbul)
*The 4th of September 2022 Sunday (finishes on the 14th of September in Istanbul)
GUARANTEED DEPARTURE, MINIMUM FOR 4 PERSONS
Tour details:
Tour type: Historical, Cultural & Textile adventure
Activity rating: Moderate, walking on countryside trails, museum and old city visits.
Tour length: 11 days.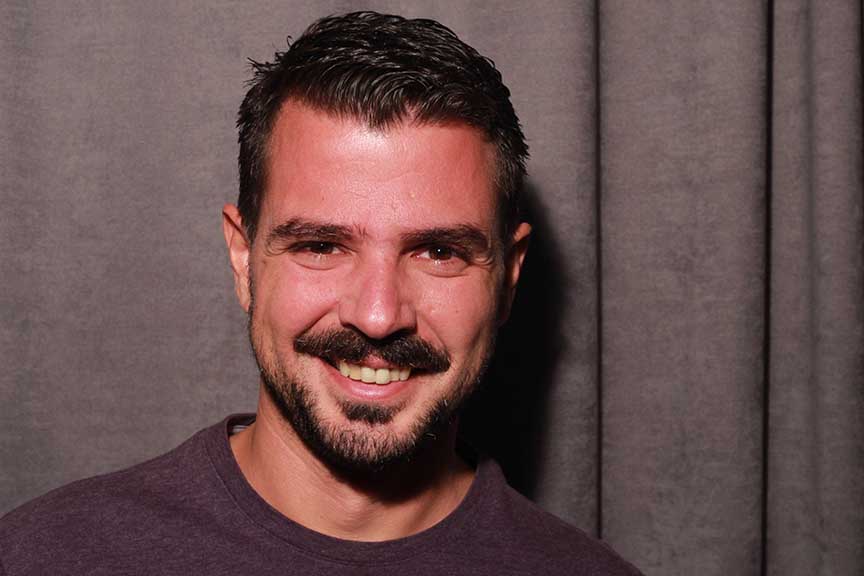 Tour Leader: (Deniz Coşkun)
Born in 1980 in Istanbul, Deniz met the fascinating oriental carpet world in 1992, while he was studying in one of the respected French high schools in Istanbul.
He specialized in hand weaving and natural dyeing, while he was studying Chemical Engineering in university. Then he completed his MBA degree and pursued his dreams to specialize in the nomadic cottage and semi-nomadic village weavings by studying the subject with scholars and expert dealers.
Fascinated by Anatolian Turkmen nomads' weaving style, he traveled central Anatolia, Taurus Mountains and lived among some Turkmen tribes for a while. He closely examined continuing tribal and ethnic-social structure of Anatolia since the Ottoman era, and presented comprehensive studies mostly centered upon "weavings and textiles".
He gives speeches at international textile events and mentors in natural dyeing and international weaving courses. Now he dedicates himself to organize cultural and textile-oriented walking and hiking adventures in Anatolia. When you join him with one of his cultural adventures, you will not only experience great cultural contacts with Anatolian rural people but also enjoy the amazing countryside landscape with traditional Anatolian cuisine which has melted down from subjects of the Ottoman empire.
---
---
Tour cost: – Per-person sharing in double room
-$ 3300 for 6 to 8 persons
-$ 3600 for 2 to 5 persons
– Hotel Single Supplement – $ 585
Price Includes:
– 10 Nights accommodations in selective boutique hotels and in original nomadic mattresses and duvets that provide the best comfort during the nomadic tour.
–4 internal flight transfer with 14 - 16 seat A/C Van for a full group of 8 attendants;
– All meals (at least 30) included with selective local fresh choices. We have no restrictions – we provide all kinds of food (vegetarians are welcome);
– 2 Internal Air tickets between Istanbul and southwest Anatolia;
– Bottled water at meals, during transportations and at hotels;
– Tipping to Hotel receptions, bellboys and restaurants;
– All Group and Private arrival and departure transfers.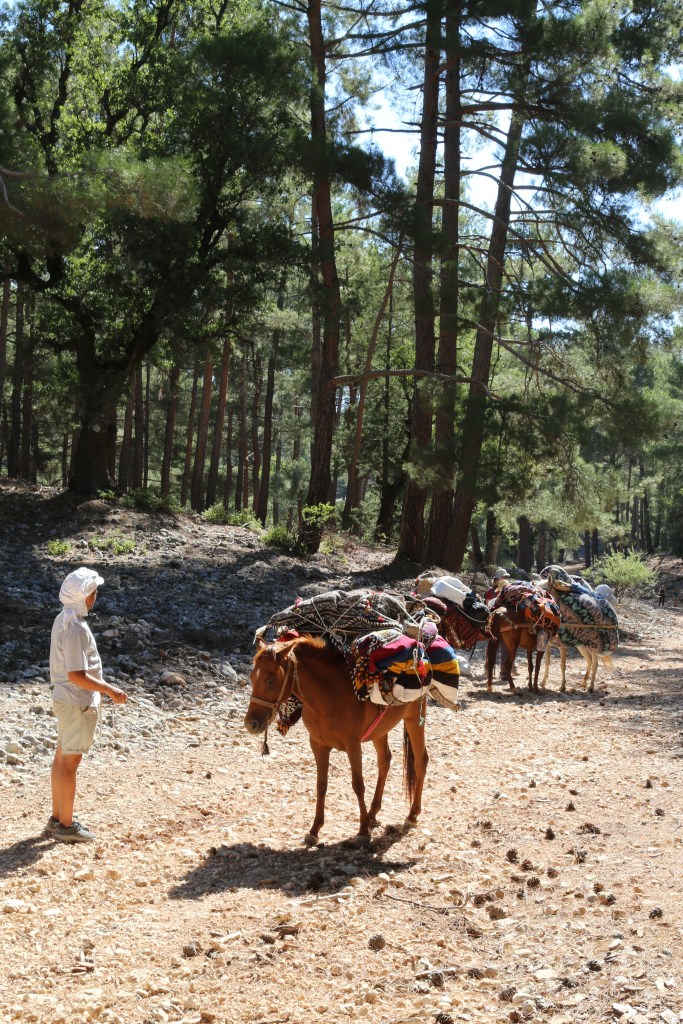 ---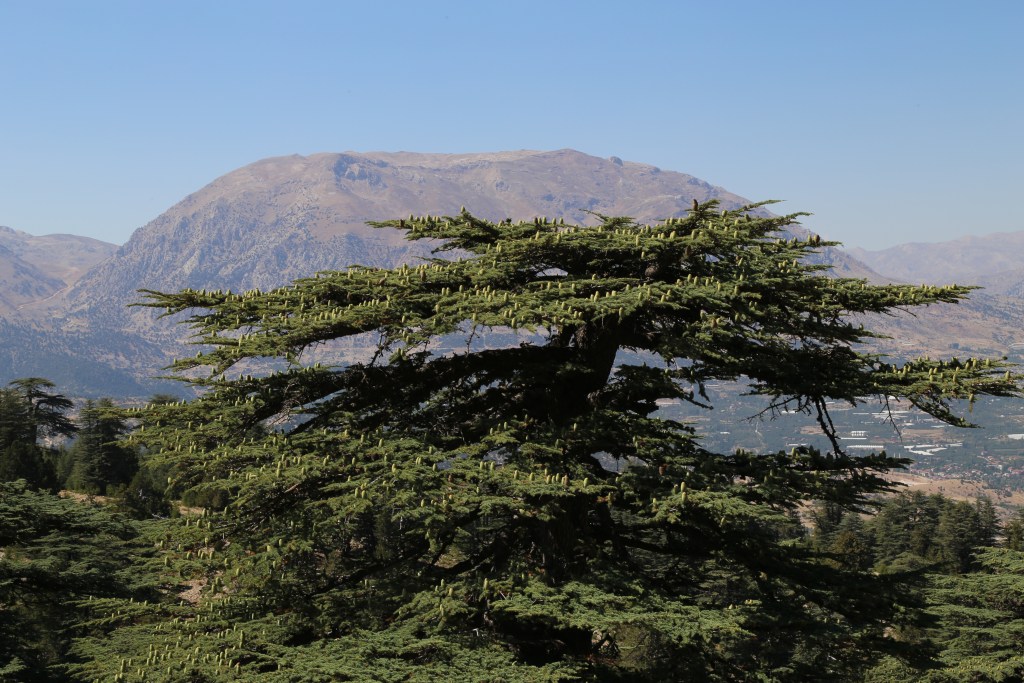 Price Excludes:
– Personal needs – laundry – drinks, hotel extras, and phone calls etc.
– Gratuity to trip Leader $ 150 – 200 per person
– Gratuity to the bus driver in Istanbul $ 20, Gratuity to the black tent crew: $ 60 per attendant, Gratuity to the bus driver in Antalya $ 20
Contact for more information:
DENIZ COSKUN – beyondeniz@gmail.com